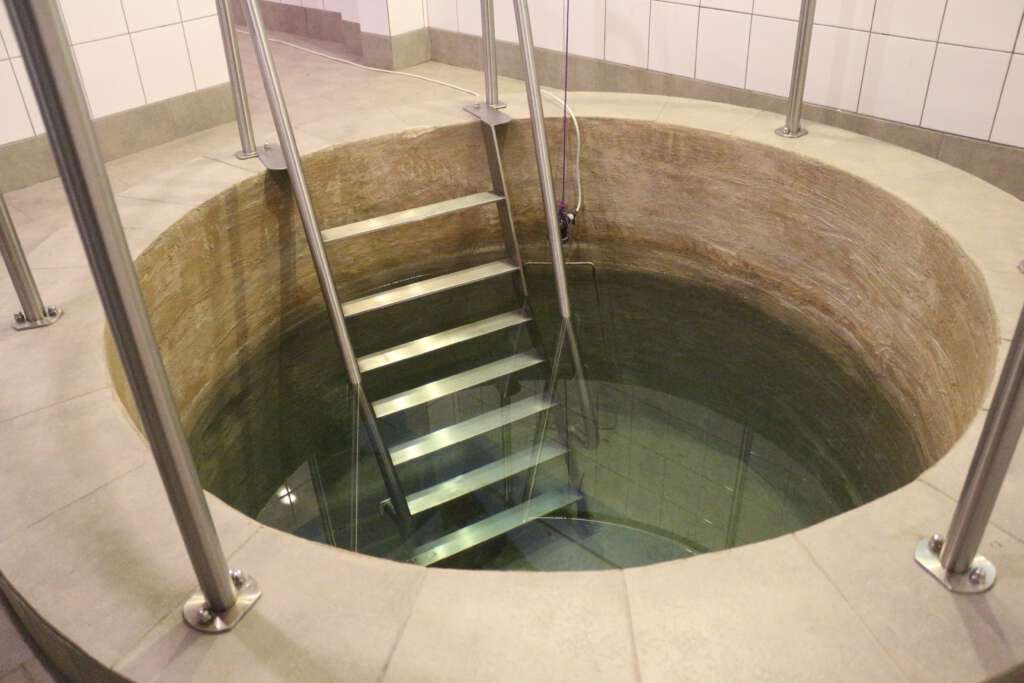 The mikveh of the Jewish Religious Community in Krakow, Miodowa 55
The foundation of Jewish life. Even when the synagogue operates, it is necessary for its functioning. Today, it is also needed for the monthly ritual bathing of women, for immersing metal containers which are transferred from a non-Jew to a Jew, and is also used by pious men for daily ritual ablution before prayer and study.  What is it? It must include at least three barrels of water gathered naturally, namely without the force of man, not in a container, but in a natural cavity in soil or rock. We learn this from the verse "Let the waters below the heavens be gathered into one place" – Genesis, Chapter 1, verse 9. 
There are many such natural mikvehs. These include Bagry Lake, and Zakrzówek Lake, the Vistula River, the Olszanica wells, or the Staw Dąbski Pond. Whereas the hot and tiled ones where the water comes from the roof via two tanks and is then mixed with tap water – this is slightly a different thing. The rabbis have something to discuss, indeed. Because it must be kosher, this must be supervised and certified. But if we were to dig a well in a basement, and build a pool next to it, in order to connect it to the well?
When renovating the community building on Miodowa 55, when the attempts to dry the foundations and pump out the water proved in vain because both the sand from the former river bed and the waters streaming in prevented it, someone had the one right thought to use the water instead of fighting it.
First, we made a well at the corner of the room. Then, a concrete ring was cast, two meters in diameter and 1.5-meter-high, which was dug into until it disappeared under water. The next step involved concrete screeds, the floor, the showers, the toilet, water pumping station, and a sauna. The most difficult part was the floor in the pool because a concrete ring full of water, with sand on the bottom, is just another well. After two months of failures, the experts from Hydrobudowa managed to complete the work.
The Jewish Religious Community in Krakow now has the most kosher mikveh of all the communities in Poland.
There is hot water under the showers, always clean towels, and herm-scented sauna to be used after the cool bath at mikveh. All this is not, however, intended for all Chassid groups, as there was as little space in the basement as there was, but the quality and cosy character of the place compensates for its size.
Welcome!