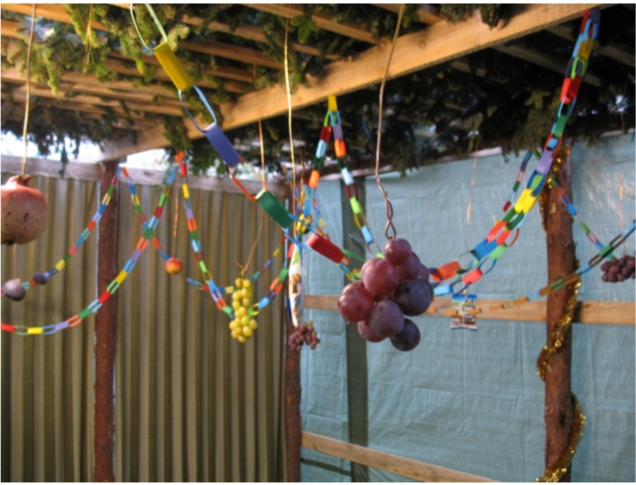 About the habits of decorating sukkah
Rabbi Boaz Pasha is talking to Krystyna Podgórska
How does the Rabbi remember the sukkah from his childhood in Israel?
One of the most important and beautiful customs on Sukkot is to decorate the sukkah – in Hebrew Kiszut la sukkah. Silage is a decoration. Every town, every municipality, every family do it in their own way depending on the climate and what they can use. When I was a child, in the sukkah that my grandfather built, schach or roof of the sukkah was always made of wood and twigs. But always not too dense, so you can see the sky and the stars. He painted this schach in light blue and my mother, who was an artist, drew clouds there. Why? – Because it's written in the Torah that the sukkah should remind us of the seven Clouds of Glory with which God surrounded the Jews while wandering through the desert. As children, we used to go to the fields to pick up wheat and barley to hang on the sukkah's walls. Usually the sukkah is embellished with pomegranates and grapes. My mother used to send me especially to a marketplace far from home to buy a big basket of grapes – not to eat but to decorate the sukkah. It really wasn't to eat, because you can't eat them during the Succots, only then you can eat them.

And what are the modern customs of decorating a sukkah?
Now the habits are different too. In Israel, for example, all Ashkenazi and Sephardic people decorate the sukkah Shivat aminim – 7 fruits, specific to Israel such as pomegranates, dates, olives, but these are not only fruits, but also the fruits of the earth, among them wheat and barley. They do it in different ways, e.g. they hang buns in the sukkah or bake a key from the dough.
Why the key?
according to the legend, there are keys that God does not give to anyone but Himself. One of them is the key from the rain, he holds this key and decides whether he will open and send the rain or not. There is little rain in Israel, and that is why before the winter comes, when we pray for rain in Israel, we make such a key from bread. It is like a key to food, a key to rain that gives food and feeds everyone. Outside Israel, where these fruits were not so frequent, others were used. But not only the fruit, it can be any thing that shows food. There are even symbolic decorations made of paper, and also inscriptions such as, "Blessed will your entrance and exit be." (Reverend Law 28:6)
What color should the sukkah be and how can we light her up?
The colours of the sukkah are yellow, brown and green. They symbolize light, life, earth and the fetus of the earth, and a little bit of blue, which resembles heaven. There has always been a problem with light in a sukkah, because when she is small and even when she is big and a candle is lit in her, you can burn the whole sukkah. Therefore, it is forbidden to burn candles in a small sukkah, and other ways were found. There are sometimes such glass lamps for the Sabbath candle cover, but there is also another custom that tiny candles are placed on the lofters or roof. As we know, you have to see the stars through the loft ladder, but they are not always visible, so you can give them lights that look like the stars. There is another art specific to the sukkah using palm leaves. Children make different wreaths, chains and other ornaments from them. We always rip off a little more palm leaves for this purpose while preparing for the Netilat Lulaw mitzvah ("Lulaw Bite"). "Take the fruit of beautiful trees, palm leaves, twigs of dense trees and riverside willows on your first day. "You will be married before the Lord your God for seven days." (Leviticus 23:40). We call the sukkah "The Time of Joy". We are very happy to sit with our family in our sukkah where we eat, sing and tell stories – just like in ancient times when the Jews came out of Egypt and lived in tents in the desert.